Fingerless Gloves "Leaves"
Well, when I'm not making cards, I'm trying to learn how to knit. Okay, I guess I have learned HOW to knit, but getting better at this new hobby is still a work in progress. Much like friendly paper crafters, there are wonderful knitters who share their skills and tutorials. After finding a really nice knitting group at work who got me started, the rest of my skills are coming from You Tube, and the talents of people like
Nancy Wynn
and Staci at
Very Pink.com
.
This past Christmas, I made an effort to create a pair of mitts for many members of my extended family for gifts. I started in July or August, and ended up finishing the last pairs in January (yep, some family got IOU's at Christmas!).
I am really proud of these fingerless mitts I made for my sister so I decided I must show them off...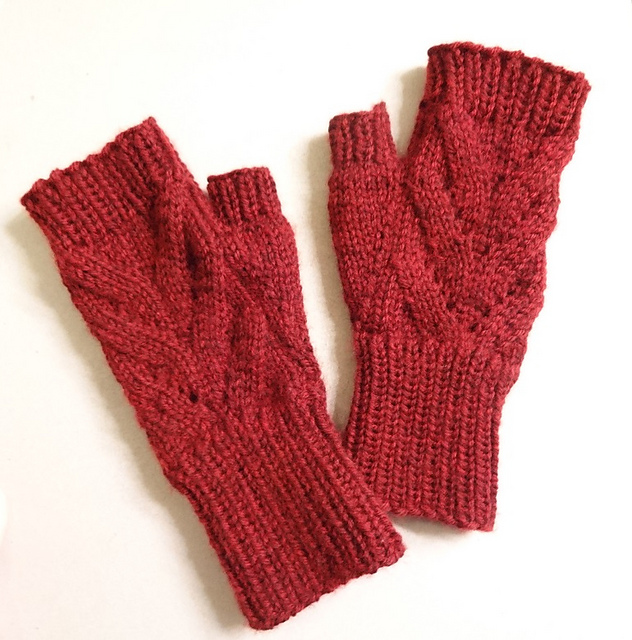 The pattern, Fingerless Gloves "Leaves" by Valentina Georgieva, can be found on
Ravelry
.
One thing I am slowly learning is that different yarns will behave differently. These were made from Knit Picks Swish worsted yarn, a washable merino wool. They feel nice and soft, but I also fear that there will be quite a bit of stretch to these. SO, I am really hoping they continue to fit my sisters hands over time.
Looking to combine your love of cards and knitting? Then check out
this Valentine card idea
from Morehouse Farm Merino that adds a knitting project to the card (it even has the free pattern on the post).
Any other paper craft/ yarn-a-holics out there? Oh, I know there are! Enjoy!
Happy Stitching everyone!
Super Lazy Rib Mitts
This is another gift pair I created, loosely based on the pattern, Lazy Rib Fingerless Mitts by chocolate trudi, found on
Ravelry
. I adjusted the pattern to add some ribbing on the cuff, top and thumb, and used a gusset-less thumb hole on these, so my versions are slightly different than the pattern.
Crafty friends, you'll find a pair of fingerless mitts can be nice to wear indoors in a cool environment, even during your craft and day time activities. When I gifted my mitts to family, I included a little handmade tag to remind them how they can use them. For my niece who is learning to knit, the tag on her mitts called her pair a set of Knitting Mitts - "keeping your fingers free for creativity!"
Ah, the joy of knitting, it is very easy to modify patterns to try new things. Using a gusset-less thumb hole option makes the pattern Super Lazy Rib Mitts. If you are familiar at all with creating a thumb gusset, the increases take a little extra work. Even with that short cut on these, they fit surprisingly well, so I was pleased with the outcome.
One thing that is problematic on posting my hand knit mitt projects on my blog is taking a good photo while modeling them... I have to set a self timer and hope that how I'm holding my hands will at least demonstrate how they fit without looking too odd. There is apparently no good lighting, and very little I can do to hide my wrinkly, craft hardened fingers, too!